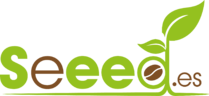 Growing Tomatoes for SEEeD 2022
-- by Kate
Why do it?
During one of my visits to the monthly gathering at Las Torcas, I heard somebody saying that the number of varieties of tomato seed in the seedbank had significantly decreased. So I decided to grow some plants and dish them out to various friends and people in our village, Turón, so that we might have a good supply of seed for next year.
Seeds selected
I visited Las Torcas in early February and collected 13 different varieties. The 8th of February was THE day for sowing tomato seed, according to my biodynamic guide! I chose one packet of each of the following, incorporating some of the older-dated seeds in order to bring them forward.
Beef tomatoes:
El Valero (Caro Rich) 2021 (Amit))
Isis Candy large 2021 (Esbjorn)
Black Russian 2021 (Natasha)
Black Krim 2019 (KT)
La Chaparra 2018 (Katie Huggles)
Rosada de Galicia 2017 (KT)
Gordo de Padul 2019 (KT)
Medium tomatoes:
Plum tomatoes:
Lemon Plum 2021 (Natasha)
Black Plum 2020 (Mick)
Gilberte Paste 2021 (Natasha)
San Marzano 2021 (Natasha)
Speckled Roma 2021 (Natasha)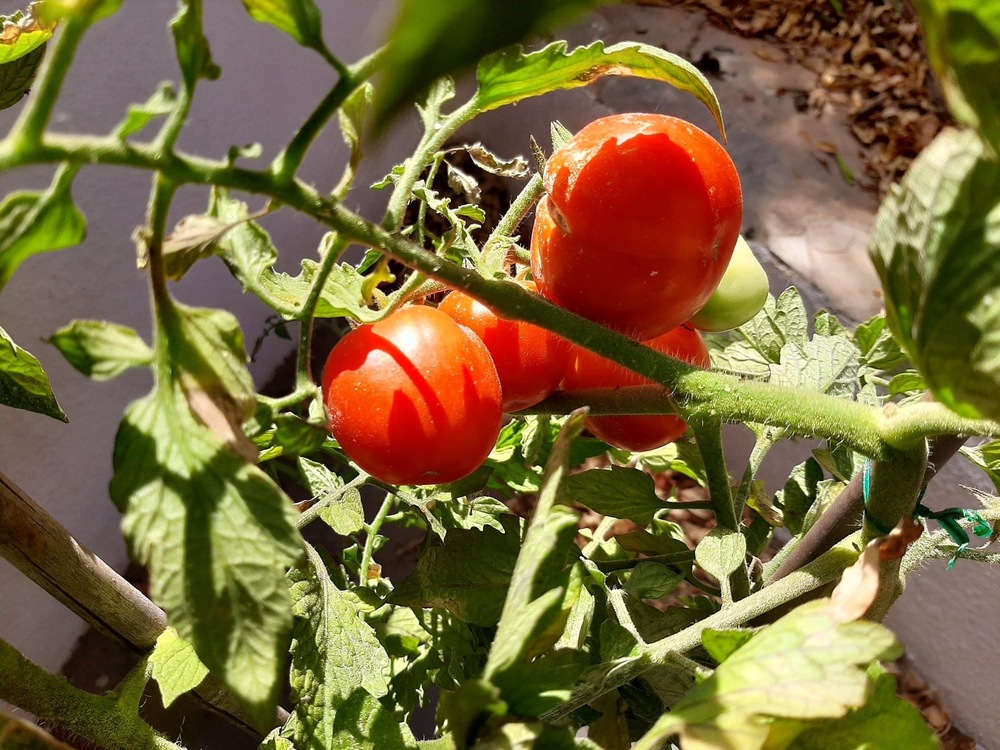 Sowing
The 7 varieties of beef tomatoes were sown on Feb 8th in my indoor, heated propagator, and the other 6 varieties in a seedtray, also indoors. The seeds germinated well & most were up by the 13th Feb! On Feb 24th, I moved them into an outside room, placing the trays on polystyrene and covering them with clear, plastic boxes. The weather was still cold at night, but there was plenty of light and warmth during the day.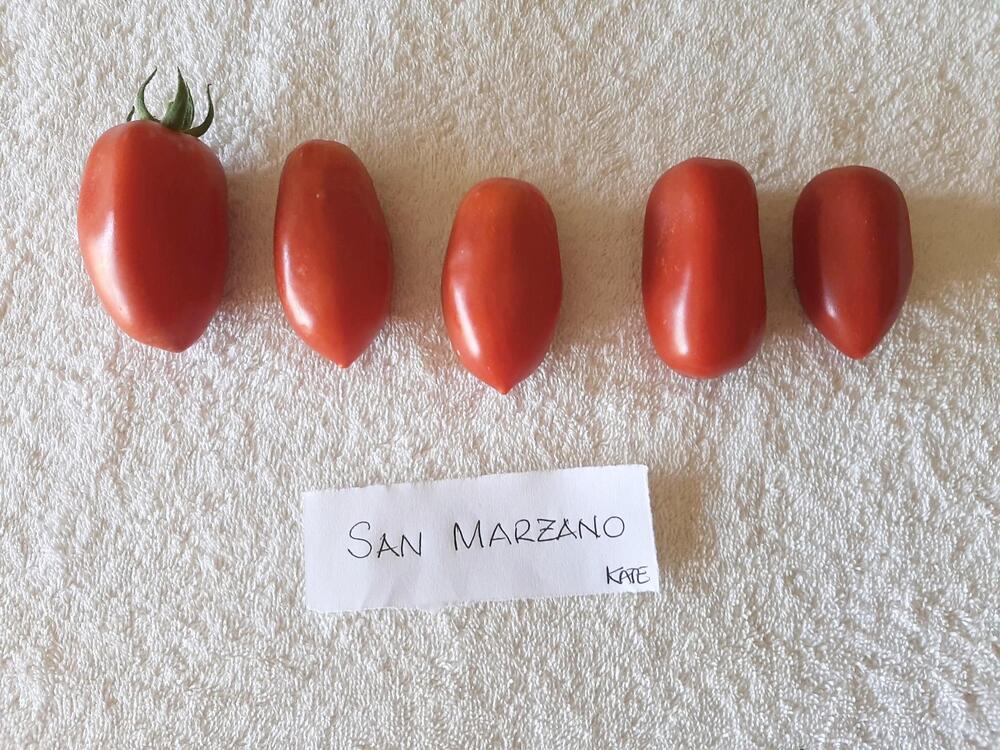 Potting on
On March 11th, I potted up most of the plants & set up the staging in the greenhouse. I am hopeless at thinning out seedlings & ended up with far more plants than I had intended! I ran out of pots and marker sticks, intending to buy more as soon as possible. Although the overnight temperature was only 2 or 3 degrees, I covered the trays with fleece and removed it during the day when the temperature often climbed to 25 degrees or so.
On March 15th the winds struck! Overnight, the wind blew down the staging in the greenhouse and all the plants were scattered on the floor. As I had not labelled each one individually, I had many "don't knows"! Disaster. From photos I had taken, I was able to decide to a point, what plants were which. And I had kept the beef toms apart from the others, which simplified the task a bit!
By March 17th, all was back together again, although I still had a number of mystery varieties, which I kept apart from the rest. In late March, we had a cold spell and some rain, not to mention the calima, but the plants seemed strong.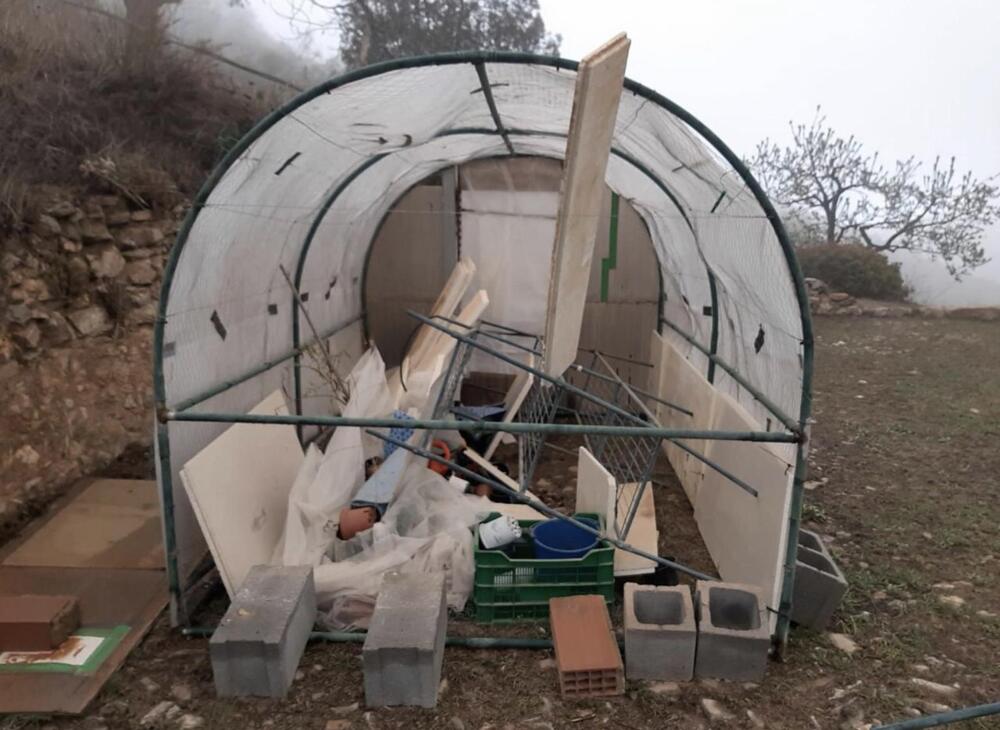 Distribution of plants
I took many plants to the SEEeD meeting at Las Torcas on April 6th, happy to send them on their way! Including many of the "don't knows".
By April 13th, the remaining plants were a good size, and I started to give them away to people who promised to give me a couple of ripe tomatoes in return. I gave 1 beef and 2 others to each of 16 people from Turón, Cádiar, Órgiva, Berja, Murtas and Notaez. I thought by giving away so many, they would be sure to experience different conditions & it would be interesting to see the success rate. Little did we know what a hot, dry summer was in store for us.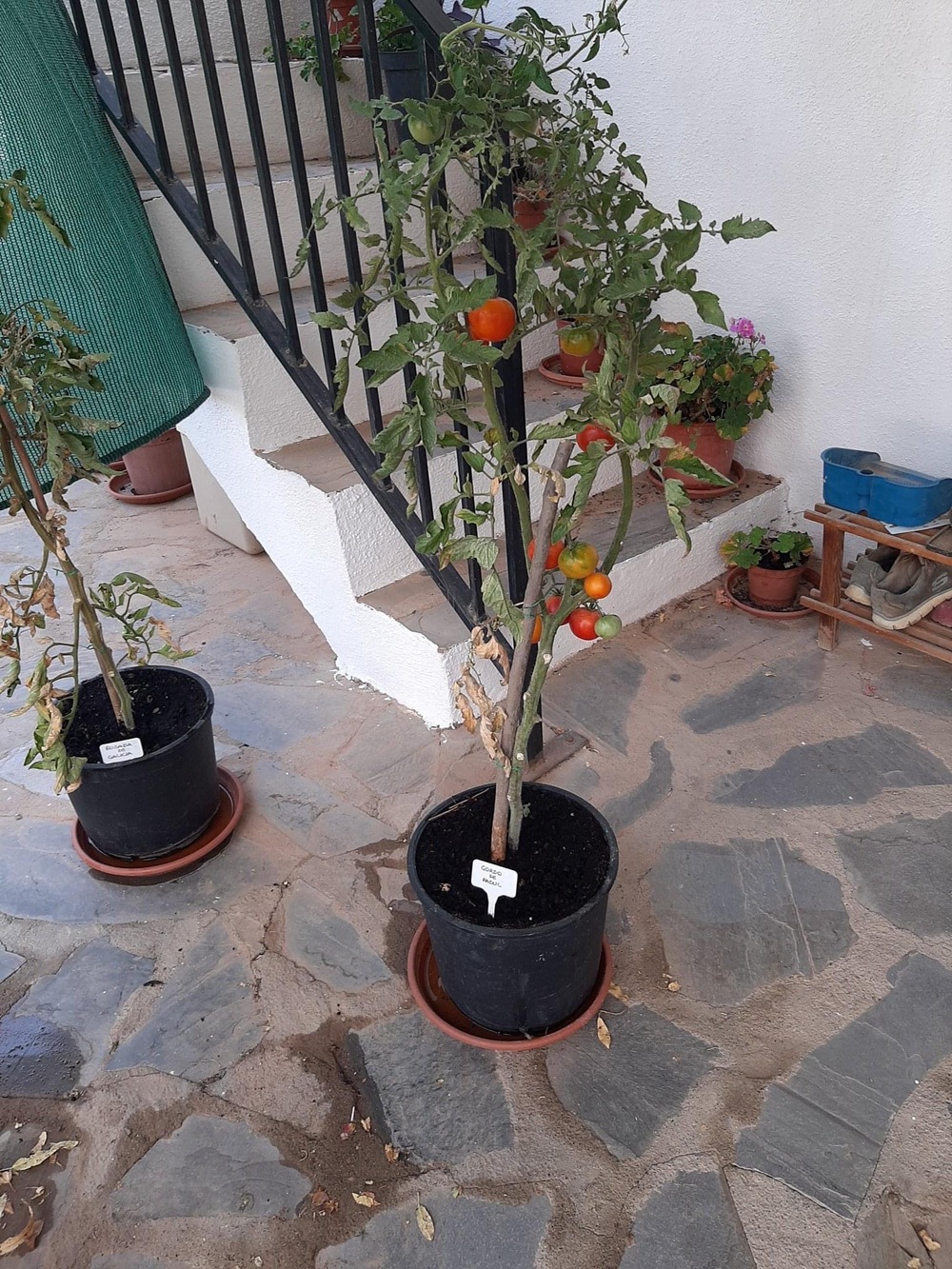 Growing on and care
I kept 13 plants, one of each variety, as far as I could gather. These I potted on into large pots, the beef varieties, which I assumed would be larger plants, into 30 cm pots, and the others into 23 or 27 cm pots, whatever I had available.
I did this because I knew we were going away for a week in May, and I could transport them to someone who could look after them for me. I understand that it is far better to plant them in the ground, but that was not an option for me, as they needed watering very regularly and I have no near neighbours.
I fed the plants once a week with an organic plant food, and tried to keep them sufficiently watered. Some of them did develop blossom end rot, a sign of water stress, and I discarded those fruits. Also, some of the leaves became very dry and tatty, so I removed a few. I struggled to keep the plants in a position where they got sufficient sun and shade. First of all, I placed them along a fence, where they could be supported, as most were about a metre high by mid-May. I spread out the beef tomatoes around the garden, trying to keep them well apart having understood that there is a chance of cross-pollination with beef tomatoes. In the UK, I always removed the growing tip after several trusses of flowers developed, but was advised not to do this by a neighbour in Turón, only the side shoots. Ange also confirmed this, so I let them go up and up!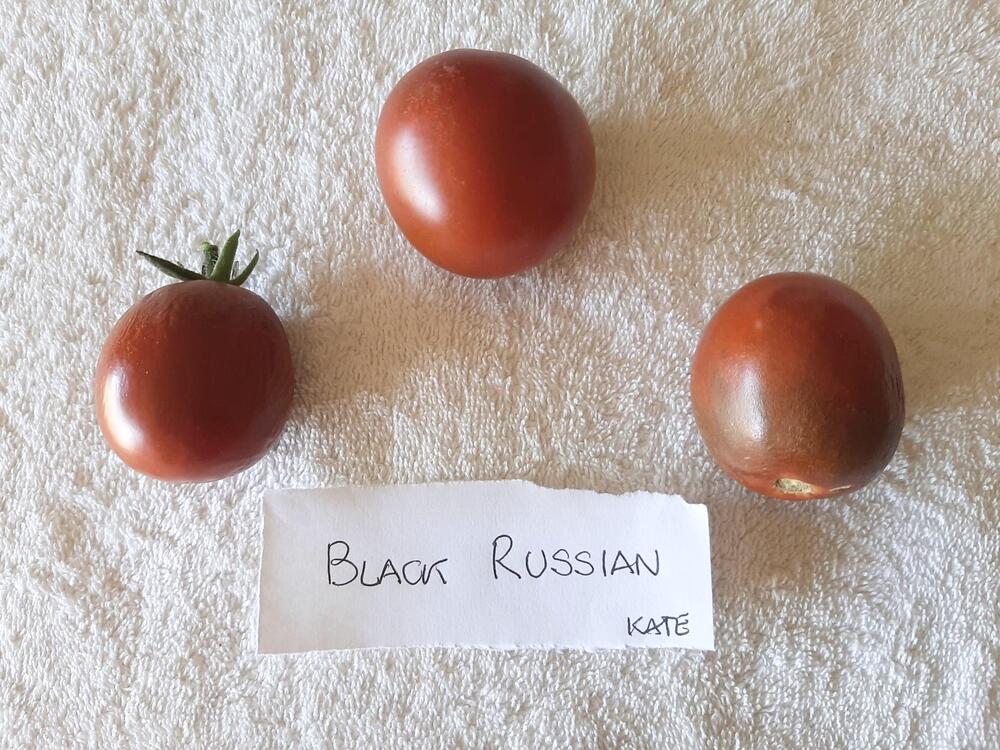 Tomatoes received for seed collection
Several of the people I donated plants to gave me some fruits, although not as many (people) as I had hoped for. All in all, I was given about 20 tomatoes, from which I have taken the seeds, then fermented and dried them.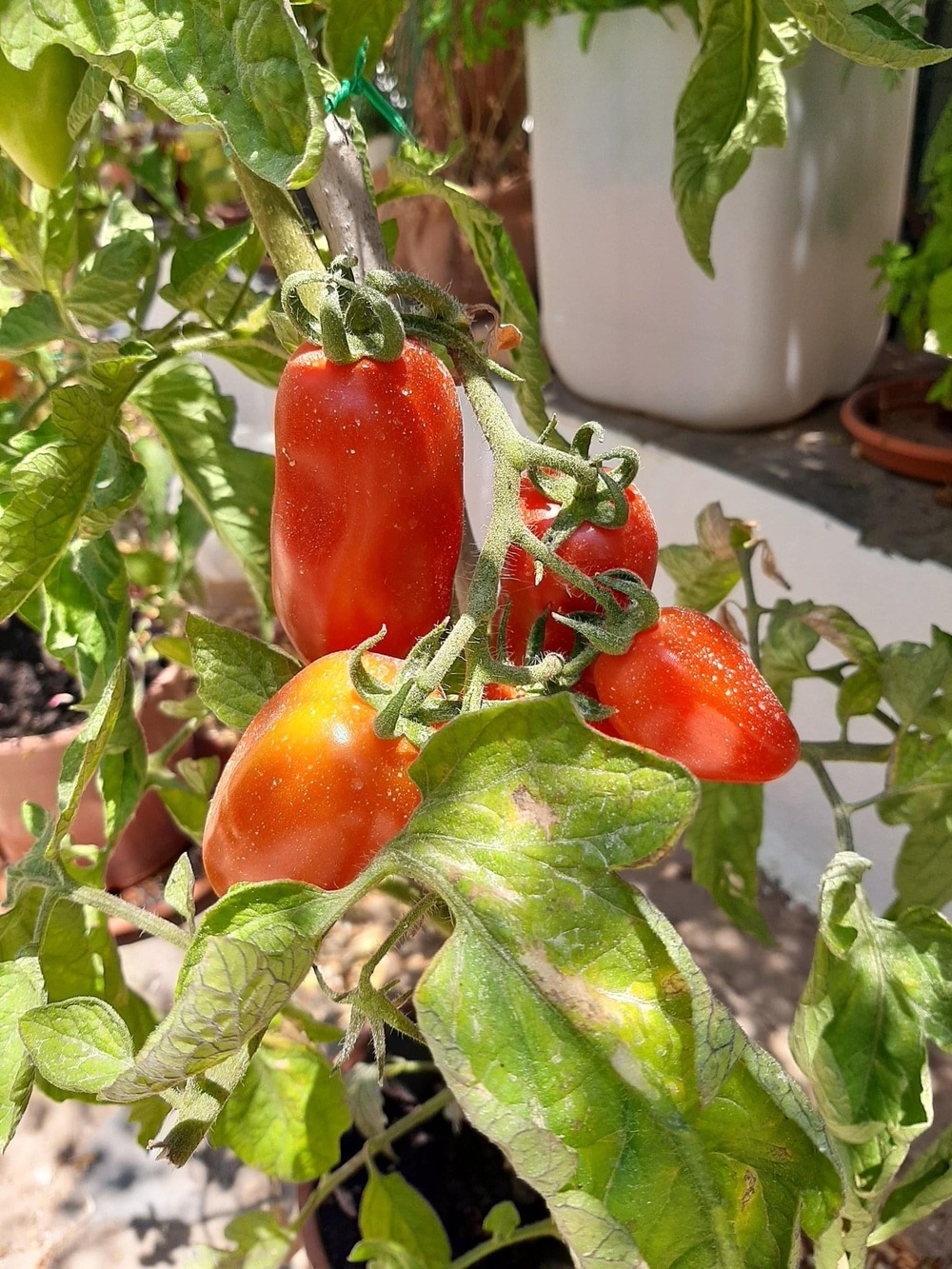 Overall results
None of us had any luck with Isis Candy large, Rosada de Galicia, Black Plum or the Speckled Roma, probably because of the excessive heat this year. A number of the tomatoes were smaller than expected, but still tasty. The most successful seem to have been the Tigerella, Lemon, San Marzano and the Black Russian.
I did get some fruits from each of El Valero (Caro Rich), Black Krim, La Chaparra and Gordo de Padul. One of my neighbours had great success with El Valero, saying they were the best beef tomatoes he had ever grown. He has a more sheltered garden than I do. The very shapely Gilbert Paste - like a banana - produced several fleshy fruits, but very few seeds.
Now, in mid-August, my plants are looking exhausted. There are a few small green tomatoes on a number of them, but I think they are spent. We have had plenty of salads out of them, but I think I can do much better next year!
Lessons learned!
1. Sow seeds in March
2. Sow fewer varieties, and only one beef tomato (my choice would be the Black Russian!)
3. If growing more than one beef variety, net the flowers once they form
4. Mark each pot when potting up!
5. Tie greenhouse staging to the frame.
6. Use larger size pots if the tomatoes are not going into the ground.
7. Feed the plants weekly when grown in pots
8. Use automatic watering daily, at night, when plants are well grown
9. Prepare a good position for the plants - perhaps plenty of sun until midday & then shade from the intense afternoon sun.
---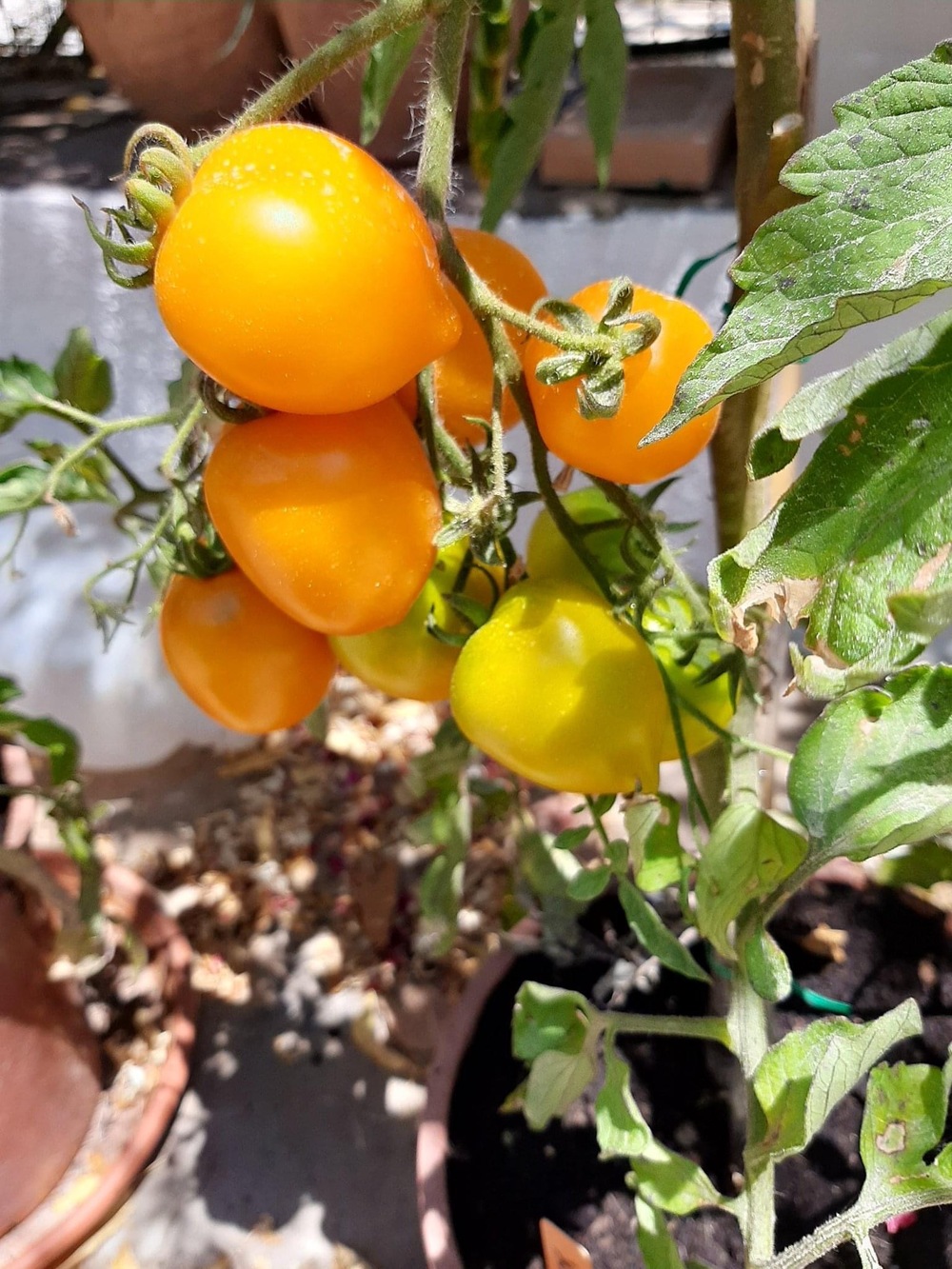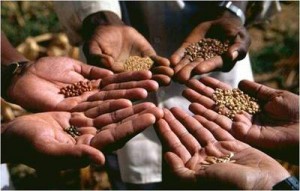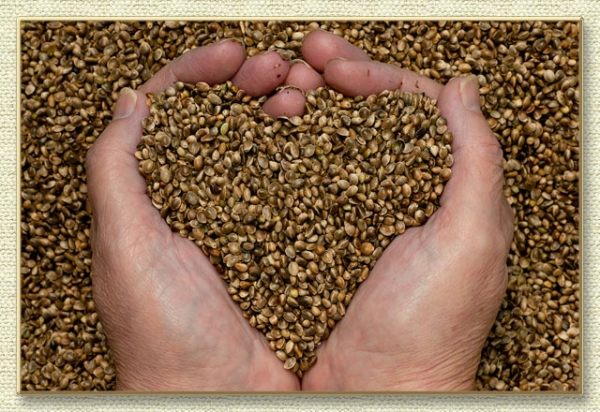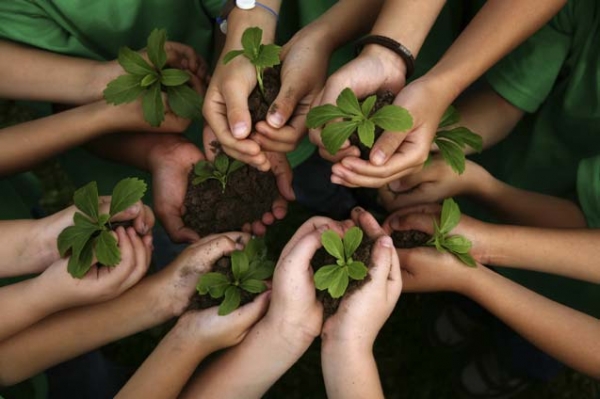 Semillas Españolas Ecológicos en Deposito
Cookies? No los necesitamos!